Exhibitions
Because the real hero of Art Vinyl is the record sleeves themselves, we run a program of exhibitions that celebrate the best in sleeve design.
Back
Best Art Vinyl 2013-Malmaison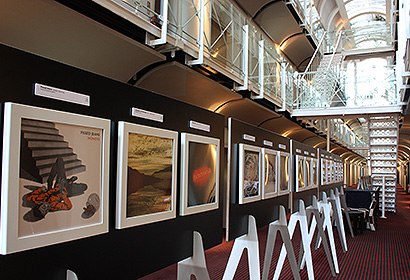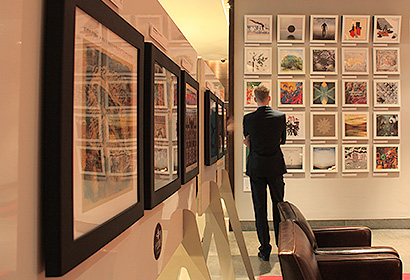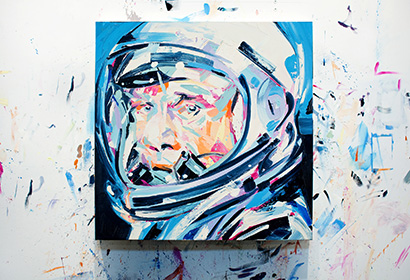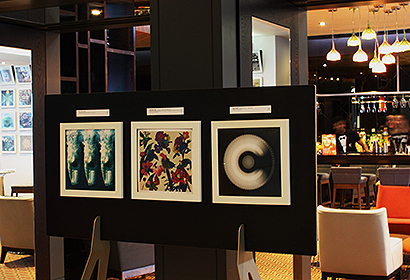 For the Best Art Vinyl 2013 award, Art Vinyl teamed up with the hotel chain Malmaison for a series of exhibitions in their very unique boutique hotels.
The winners were announced on the 3rd of January 2014 with exhibitions in unique locations where the public could see the sleeve design in greater detail and see the top 50 as a unique snap shot of record jacket design for 2013.
In the end the public voted Michael Kagan's oil painting on the cover of White Lies' record 'Big TV' to number one. In second place we find 'Repent Replenish Repaeat' by Dan le sac vs Scroobius Pip with artwork by Paul Jackson, followed by Bonobo's 'North Borders' designed by Leif Podhajsky.
To see all 50 Best Art Vinyl 2013 winners and nominees please visit our dedicated Best Art Vinyl pages.
Michael Kagan – The painter behind the White Lies 'Big TV' record cover, winner of Best Art Vinyl 2013:
"Most of my work revolves around iconic images, focusing most recently on space exploration. I have done large scale paintings of rocket launches, astronauts in capsules, and astronauts floating in space. With all my paintings, I focus on a "snap shot" image, rather than a narrative. Rather than scenes, I like images that are quick reads and central on the canvas. My paintings are thick with brushwork and paint as I like this push and pull between abstraction and representation. The goal is that the painting falls apart when viewed up close and then tightens when seen further away. The painting, Pilot 2, used on BIG TV, is from a series of 6 paintings I did in 2010. There were 3 images of Mercury astronauts… the original rock star hero that went into space. The other 3 were paintings of astronauts with their visors down and the reflections on the visors. My work was introduced to White Lies through a mutual friend of White Lies bassist Charles Cave. She said the band was looking for original artwork for their new album, but they were having a hard time finding work they connected with and were excited about. She asked if she could put my name in the running and show the band my website. I immediately got a call from Universal and Fiction records asking if I would be interested. From the beginning, the band was very sincere and I could tell immediately how connected they felt to the painting and how it was important for them to it. Steve Garby of Universal told me that the band was going through images on my website and that they had a "eureka" "that's it!" moment when they opened the image of Pilot 2. They selected 4 other images to be used for the single releases and for the inside booklet. It has been a very exciting experience for me to see my artwork used in this way.  I have really enjoyed how involved the band has wanted me to be. We spent some time together in NYC, and after seeing their show, I could see how the painting had really become a symbol of the band and the new album. There is a nice cohesiveness between all of the images used and the songs and feel of the album."
Artist website: www.michaelkagan.com