Exhibitions
Because the real hero of Art Vinyl is the record sleeves themselves, we run a program of exhibitions that celebrate the best in sleeve design.
Back
De-Face Value Charity Exhibition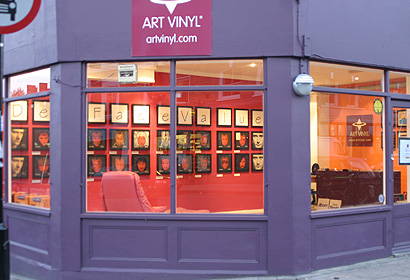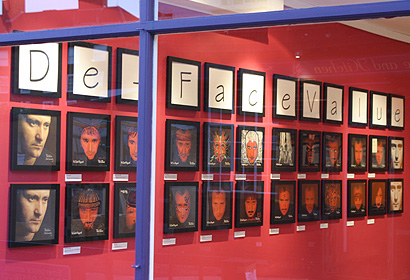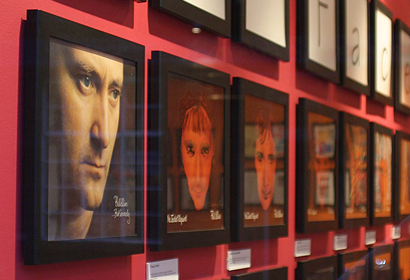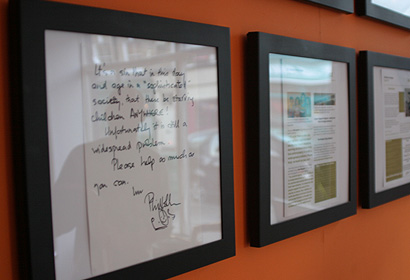 With contributors including Tracey Emin, Paul Smith and Joanna Lumley, Art Vinyl created the extraordinary concept of "De-Face Value". Celebrities were asked to depict themselves using an iconic image from one of the 80s' bestselling albums. Each contributor was given Phil Collins' 'No Jacket Required' album sleeve to as a nearly blank canvas to creatively recreate them self. The resulting piece was the first and only art exhibition to feature Turner prizewinners, musicians, fashion designers, actors, DJs and politicians.
Contributors: ALEXIS TAYLOR Lead singer and songwriter with Mercury Music prize nominated 'Hot Chip'. ARCHIE DJ Shadow cover star. BADLY DRAWN BOY Indie Singer/Songwriter. BILL WYMAN Legendary Rolling Stones Bass Man. BILLY CHILDISH Artist, Author, poet and Musician. DAVID CAMERON MP Leader of the opposition. GORDON RAMSEY TV Chef. GUI-J BORESSA Amplified Message of Peace DJ. JEM PANUFINK Finger Lickin record sleeve designer. JOANNA LUMLEY Actress (New Avengers/Absolutely Fabulous). KATE MOROSS Artist. MARTIN DEGVILLE Former lead singer of 80s Cyberpunks Sigue Sigue Sputnik. MATTHEW COOPER Domino Record Sleeve Designer. NORMAN COOK AKA Fat Boy Slim DJ and Musician. PAUL SMITH Fashion Designer. PHIL JUPITUS Comedian and TV presenter. READER'S WIVES DJs and musicians. ROBERT PLANT Legendary Led Zeplin lead singer. TRACEY EMIN Artist.
Read the full story at our Tumblr blog page.
View the charity auction exhibition here