Exhibitions
Because the real hero of Art Vinyl is the record sleeves themselves, we run a program of exhibitions that celebrate the best in sleeve design.
Back
Eel Kollektiv – Local Residents and Businesses Curate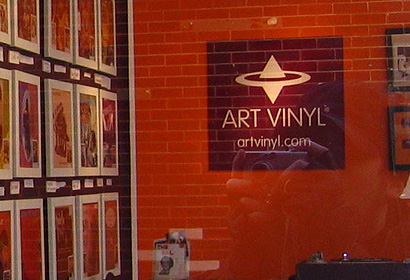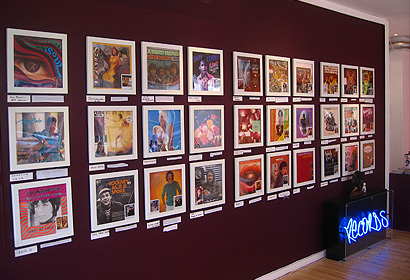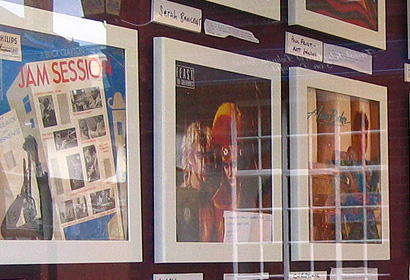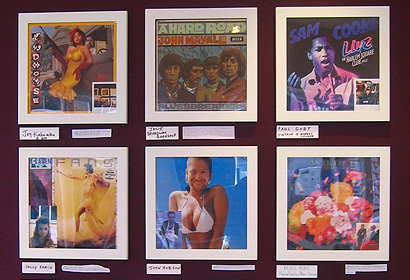 Record covers that have inspired the people of Broadway Market and Hackney
This local community art exhibition, for people in and around the Broadway Market and Hackney areas in London, was open to all local residents and businesses to take part. Contributors included the butcher, the baker and the pie and mash maker who all brought one of their favourite records to form part of this collage of local preferences for art and music.
With local fanzine the Eel, this exhibition provided a unique snap shot of the people who work and live in the area before an inevitable gentrification took its hold on the local area.
Like a visual 'Desert Island Discs' each record was presented with a typed explanation as to the owner's choice and in most instances showed just how strong the emotional attachment is that we have with vinyl records.
With a little imagination this type of exhibition would make an excellent community project and help us all learn a little bit more about our neighbours, so for more information on organising your own Art Vinyl record sleeve exhibition please get in touch.
Want to produce your own Art Vinyl record exhibition at home? Shop here at the Art Vinyl website.